Two Jackets, the trims are made with a Stash Yarn and the body with new Orb
I'm not too proud to say it - I have an obscene stash. Makes sense really. I work for Skeinz, at a spinning mill. I own and operate
Knit August Nights
, so I get hands on access to some of the countries top Indie producers, and for those who don't make KAN, I then go and stalk them at Unwind in Dunedin. Yes, my stash is considerable.
The Random print is some Skeinz Original from 8 years ago with some Skeinz Alpaca
So like many with the passing of the new year and declarations of "Yarn Diets" and "Knit from Stash" regimes, I considered this... for a nano second. But the reality of my stash, which has grown from a large cupboard, a two large basket overflow and now a collection of Jute shopping bags, I did concede that maybe a cull was in order.
It was awful, it's like trying to decide which one of your children you liked best. Needless to say the only yarns that made the cull pile were those who were orphans from previous projects, those unwanted who I'd already had my fun with their siblings and they no longer held my allure. But I am a kind mistress, and they were all happily re-homed to other stashes. Making space also meant I could start stashing some of the stunning new yarns that have now arrived at Skeinz.
The trim is a stray ball of Noro from the stash with the body in the Heritage Kid Mohair in porcelain.
That is when the light bulb appeared - I could do both. Satisfy the urge to stash bust with the need to knit our new yarns. The solution - knit projects that had to combine both elements. Sounds simple enough. Great too as I have so many single balls of quirky yarns purchased on overseas sojourns or received in international swaps.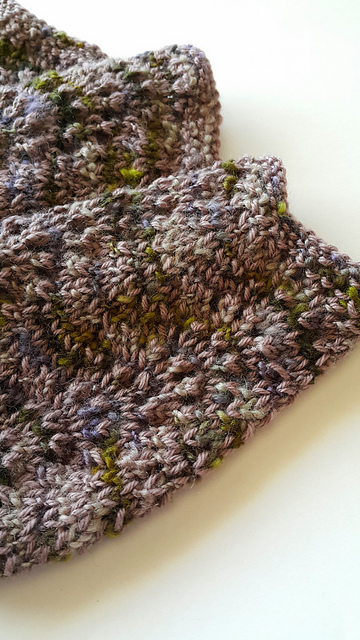 This was a mix of Vintage Oilskin with scraps of Alpaca Boucle
I blogged previously about the baby cardigan I started after a few glasses of wine. No, I am NOT going to write the pattern up because there are so many
similar patterns
on Ravelry which will do the trick. I have now completed four of these sweet cardigans & I am now starting on a vest for my own son. It has been a brilliant exercise to play with texture and colour & I am now looking at my stash with fresh eyes - especially those bags with not enough yarn for a project for me, but if I added some new Orb, Burlesque or Silver Lining.....
The completed Orb Cardigan - did I mention how much I loved this yarn?